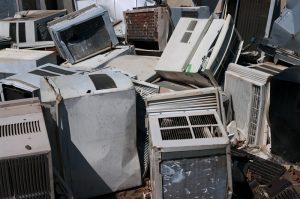 When an air conditioning system starts to get up there in age, a homeowner is faced with the question of when it will need to be replaced. The first instinct is to continue to have it repaired whenever anything goes wrong. But eventually, the cost of repairs will no longer be worth it and exceed the value of having a new air conditioner installed.
You may find yourself coming to the point where you're balancing having another repair for your old AC or scheduling an air conditioning replacement in Slidell, LA. The right choice depends on a variety of factors—there's no single answer to this question. The best way to find the right answer is to arrange for service with our NATE-certified technicians. They won't push you toward the more expensive option if that isn't the best one. We value our relationships with customers over revenue.
Basics in Understanding "Repair vs. Replace"
So we've given you the best path forward to answer the "repair or replace?" question, which is to work with HVAC professionals. But we can also give you a broad view of what factors go into considering when an AC can carry on with repairs and when it's time to retire.
The question of age. The life expectancy of a residential central air conditioner is from 10 to 15 years. An AC in this range, and especially over it, is a candidate for replacement if other signs are pointing toward it. Even an AC that appears to be working well should be replaced if it is more than 15 years old, since the opportunity for decline increases dramatically.
Cost efficiency. An air conditioning system that has regular maintenance each year should maintain most of its original energy efficiency through its life—until the end. If your air conditioner has turned into a larger drain on your electrical bills than ever before and it's in the upper age range, it often means it has declined too far to be worth keeping.
Repair costs. If a repair can keep the AC going for a few more years, it's probably worthwhile—unless the cost of the repair is too high. One way to test if the cost is too much is to multiply the price of the repair by the age of the air conditioner. If the result is higher than 5,000, it's too costly. (So a $300 repair for a 9-year-old system wouldn't be bad, as 300 X 9 = 2,700. But a $500 repair for a 12-year system would be too much, as 500 X 12 = 6,000.) Another rule of thumb to keep in mind is that a single repair that costs more than 50% of the price of a new system is far too high.
Performance. How well has your AC done recently? If the performance is still excellent, it may sway you one direction or the other. If you've noticed hot spots around the house and the AC is failing to keep up—and it's up in age—then a replacement is probably the best way.
Gowland's Heating & A/C values "Relationship over Revenue!" Call us to schedule air conditioning repair or replacement services.