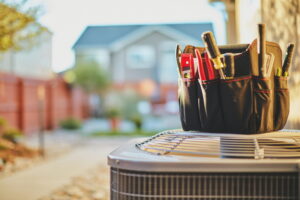 There are some heat pump repairs that can wait and some that need to be addressed immediately. Short cycling is one of those issues that warrants a call to a professional HVAC company as soon as you're aware of it.
Short cycling increases wear and tear on your heat pump and can take years away from its estimated lifespan. When you call us for heat pump repair in St. Bernard, LA ASAP, you'll prevent that added wear and tear.  
Short cycling can be attributed to a number of different issues. Keep reading to learn how to identify short cycling and why you should have fixed it before it causes a major disruption to your home comfort.
How A Heat Pump Operates
A heat pump uses refrigerant and electricity to move hot air from inside your home to the outside when it's in cooling mode. Your heat pump shouldn't be running constantly. Instead, it turns on and off at intervals to reach the setting on the thermostat.
In the summer, when your indoor air temperature is too high, the thermostat triggers the heat pump to turn on and begin sending conditioned air into your home. Once the desired temperature is reached, the heat pump turns off until it needs to run again.
The Problem with Short Cycling
When a heat pump is short cycling, it turns itself on and off very frequently. It'll run for 5-10 minutes and then turn off, only to turn back on again a short time later. That's because it wasn't able to complete a cooling cycle and it turns itself on again in an attempt to cool down your home.
A heat pump isn't meant to turn on and off so frequently. In fact, the startup phase of the cycle is the one that uses the most energy. This is why short cycling puts so much strain on the system. By letting the heat pump continue to short cycle, not only will it never cool down your home, it could lead to a major system failure.
A Short Cycling Checklist
If your heat pump is short cycling, there are some things you can do to hopefully prevent it from happening in the future.
Schedule twice-a-year maintenance
Change the air filter
Keep a minimum 2-foot area around your heat pump clear of any items
Make sure that you have adequate drainage and ventilation
Utilize a programmable thermostat to maximize efficiency
Ensure that all vents are open and free from blockages
By calling our team for your heat pump repair, you're counting on years of dedicated service from a team you can depend on. We'll provide a comprehensive repair on your system to make sure it works better than when we arrived. For the homeowners who aren't satisfied with one repair, you can sign up for our heat pump maintenance to have a technician give your system a yearly checkup which will reduce the likelihood of short cycling ever again.
Do you need help with a short cycling heat pump? Then reach out to us today: Gowland's Heating & A/C Believes in "Relationship over revenue"!