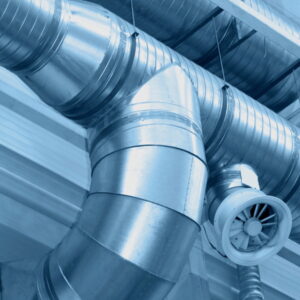 At Gowland's, we work on more than residential heating and cooling. We're also pros when it comes to commercial HVAC in Kenner, LA and throughout the New Orleans area. We can help local businesses achieve the right balance of indoor climate through heating and cooling system installations.
You already know the importance of proper climate control for a building—the wrong temperatures not only affect employees, customers, clients, tenants, etc. but can also ruin equipment and make it impossible to achieve daily tasks. But business owners often overlook the ventilation system of their building—the "V" in "HVAC"—when it comes to HVAC service. We'll explain why it's critical to have professionals help with your ductwork and building ventilation.
Indoor air quality problems
Poor indoor air quality is a serious issue for many commercial buildings: the air in a building can be four to five times worse than the air outside.
What's the main cause of this problem? Inadequate ventilation. Buildings today have tight thermal sealing to create energy efficiency, but this traps too much air indoors, and this creates major air quality issues. Poor ventilation in a building increases the number of pollutants in the air, many of which come from indoor sources such as paint, varnish, and equipment. Another common source of indoor pollutants is mold, which often develops in our humid local environment.
The contaminants trapped indoors because of improper ventilation can lead to health problems such as nausea, fatigue, respiratory troubles, headaches, and major long-term effects.
Negative air pressure
Connected to poor ventilation is the problem of negative air pressure. This is when the pressure inside the building is lower than the outdoor pressure, and it happens due to a lack of influx of outdoor air—a concern with many modern buildings that lack fresh air circulation because of their construction. Negative air pressure also occurs in buildings that must exhaust indoor air (such as a commercial kitchen or a manufacturing plant) but do not replace enough of that air from the outside. 
Negative air pressure can have several effects. It lowers the energy efficiency of heating systems and creates drier air during winter. In summer it leads to higher indoor humidity that not only puts more pressure on the cooling system but contributes to mold growth and building damage.
Dealing with poor commercial ventilation
How can you improve the ventilation in your commercial building to avoid these problems? This is where you'll want the expertise of our commercial HVAC professionals. We provide full care for IAQ problems in facilities, and that goes beyond installing air filters and air purification systems. (Although we recommend these as well.) We also work with the ducts of the ventilation system. Leaky and damaged ducts are major contributors to poor ventilation, negative air pressure, and imbalanced humidity inside a building. We can handle taking care of your ducts from start to finish to ensure your facility has the right ventilation to make the environment healthy and productive.
Gowland's Heating & A/C Values "Relationship over Revenue!" Call us today to schedule commercial HVAC service in New Orleans and the surrounding area.