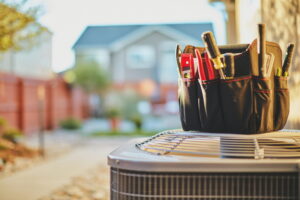 Do you want to head into the coming summer—guaranteed to be another hot and humid one—with an air conditioner that's worn down, dirty, energy-wasting, and possibly in danger of failing when the temperature is at its highest? Of course you don't. But that's what you'll have if you don't arrange for a spring tune-up and inspection with HVAC professionals.
This annual AC maintenance is one of the most important services you can schedule for your cooling equipment. It pays off in numerous ways. We should know: we've handled many AC tune-ups over the more than 20 years we've been in business. We've seen how much they benefit homes, and we don't want your home to miss out on these benefits. We'll go over several of the reasons you want an AC tune-up each spring.
Better energy efficiency
Any AC in our climate gets a serious work-out during the summers. It's not only the effects of the heat but the humidity as well. The accumulation of stress, dirt, and moisture on an AC will start to lower how efficiently it works. On average, an air conditioner will lose 5% of its efficiency rating each year that it misses maintenance. With maintenance, an air conditioner will only lose 5% of its efficiency over most of its service life. A well-maintained AC is one that costs less to run!
Fewer repair needs
We know you don't want to call us for an AC repair in Covington, LA at any point. We understand; nobody likes having important equipment malfunction. Although there is no way to avoid all air conditioning repairs, maintenance lets you avoid most of them. More than 50% of the repairs an air conditioner might need during its service life are preventable with annual spring tune-ups.
Less chance of an emergency breakdown
The nightmare scenario with an AC during the summer is when the system fails entirely when needed the most. Unfortunately, air conditioners are most likely to break down during times of greatest strain, i.e. extremely hot days. A tune-up significantly reduces the chance of a big failure like this that will leave you stranded in the heat until our technicians can get to you.
Longer equipment life
The estimated service life for a central air conditioning system with regular maintenance is 10–15 years. Without maintenance, that number will start to drop. Neglecting maintenance entirely can end a system's life in a mere 5–8 years, forcing an early and expensive replacement.
Warranty protection
Around 2% of air conditioners leave the factory with some type of fault. This is the reason you have a manufacturer's warranty: you won't have to pay for parts in case of equipment problems while the AC is still under warranty. However, to keep the warranty valid, you need to be able to show proof that the system has received regular maintenance.
We hope we've convinced you of the importance of getting your AC tuned up this spring. You can sign up for our Residential Club Agreement to enjoy great air conditioning and heating maintenance each year.
Gowland's Heating & A/C Values "Relationship over Revenue!" Call us today to schedule your spring air conditioning system tune-up.