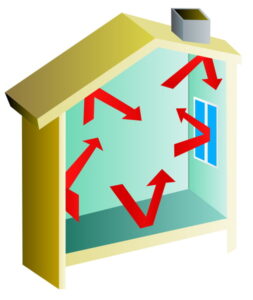 When people think of insulation, their minds often move to how insulation improves warmth. For example, a coat with good insulation is a coat that helps its wearer stay warm. Likewise, the insulation in a home, such as in the attic and between the walls, helps the house stay warm during cold weather.
However, insulation works two ways: it's also a method to keep a house cooler during the heat. Insulation is an important part of how a house stays energy efficient throughout the year. If your house has poor insulation or its insulation is aging and turning ineffective, you'll end up with a house that's more uncomfortable in winter and summer, along with energy bills that are far steeper as your HVAC system works overtime trying to combat the extra heat and cold.
Insulation Is a Thermal Barrier
To help explain how insulation works, we'll start with a simple explanation of what insulation is. It is a thermal barrier. In other words, insulation works to stop or slow down the movement of heat.
First, let's look at your house on a cold day. Because the inside of the house will have a higher amount of heat in it (thanks to your HVAC system), that heat will naturally move to the outside, a process called heat loss. It's the same as taking a hot object from the oven. The object gradually cools because heat escapes to the cooler air around it. The insulation in your house helps to slow down the heat loss and keep more heat contained indoors, requiring less energy to maintain indoor comfort. A coat works the same way: it slows down your body's loss of heat to the colder air around you.
Now let's switch to a hot summer day. Now the greater area of heat is outside your house, and you use your AC to pump more heat out of it to stay cool. The outside heat presses to move into the cooler space of the house, which is called heat gain. What stands in its way? Insulation! Working the same way—slowing down the movement of heat—insulation prevents your house from rapidly getting hot again after the AC has cooled it down.
In both cases, attic insulation is critical: in the winter, heat rises to escape through the attic. In the summer, immense amounts of heat build up in the attic because of the sun exposure. Proper attic insulation can make a tremendous difference in both seasons. 
Improve Your Home's Insulation With Our Help
Gowland's Heating & A/C offers work to help with overall home performance—and insulation is an essential part of that. We offer insulation service in Slidell, LA and throughout New Orleans and the surrounding area. If your house is turning extra uncomfortable around the year and you've seen higher energy bills than usual, you may need new insulation or expanded insulation. We work with different types of insulation (fiberglass, cellulose) and can find the best solutions for your house. We're available at your convenience, not ours.
Gowland's Heating & A/C Values "Relationship over Revenue!" Reach out to us today to improve your home's insulation.