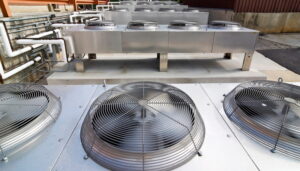 Even smaller businesses and commercial spaces can require more cooling than the standard residential home. A commercial facility has more people in it and a greater amount of heat-producing equipment working at once. Most commercial air conditioning systems need a higher capacity to handle the climate control needs of a business—often much more.
If you're asking how much cooling you need from your commercial HVAC in St. Bernard, LA, we can help shine some light on the topic. When it comes to selecting new units and installing them, you'll need our professional assistance to ensure all the right choices are made. That way you'll end up with the ideal amount of cooling that won't waste power and will work dependably for many years.
The Tonnage of AC Systems
The capacity of an air conditioner—the amount of heat it can move from a space—is measured in units called tons, and a system's capacity is called its tonnage. One ton is equal to 12,000 BTUs (British Thermal Units) removed from a space per hour. The reason this measurement is named tons is because this is the amount of heat necessary to melt one ton of ice over 24 hours.
To give you an idea of the range of tonnages, here are the capacity averages in tons for different types of ACs:
Window ACs: From less than ½ ton to 1 ton (5,000–12,500 BTUs)
Small residential central ACs: 2–3 tons
Larger residential central ACs: 4–8 tons
Light commercial ACs: up to 25 tons
Heavy commercial/industrial ACs: 25 tons and up
As you can tell, there is a large range available for most commercial systems. Some small businesses may only need about 5 tons of cooling. Large facilities could require 50 tons.
How to Find the Ideal Commercial AC Capacity
The process of determining how powerful an air conditioning system a commercial or industrial space needs is called sizing. To accurately size new air conditioner installations, professionals need to perform a load calculation for the building. Professionals use a similar process for residential air conditioning installations, but the calculation for commercial and industrial spaces is far more complex.
The professionals must take numerous factors into account about the space and its use to determine how much heat an AC needs to extract to create the ideal conditions (and those conditions differ depending on the type of business). Some factors they collect for the calculation include:
Square footage
The volume of space, accounting for high ceilings
How often the space is exposed to the outdoors
The average number of people in the space
The amount of heat generated by equipment
Temperature requirements necessary to protect equipment and process
Levels of insulation
Light exposure through windows 
There's more, and each business will have different necessary measurements. The commercial HVAC professionals will collate this data for the calculation, and the result will be the tons of cooling necessary from the AC units installed.
You can trust Gowland's team to take care of the measurements to ensure you have the right cooling for your business.
Gowland's Heating & A/C Values "Relationship over Revenue!" Rely on us when you're looking for great commercial air conditioning installations and replacements in the New Orleans area.