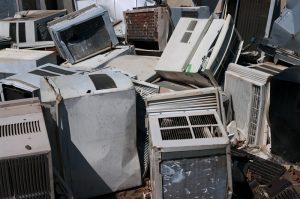 We expect a hot and humid summer this year, and this makes it especially important for everyone to take good care of their residential air conditioning systems. This includes scheduling regular maintenance and acting on repair needs as soon as troubles arise.
In some situations, the best way to prepare an air conditioner for a rough summer is to upgrade to a new air conditioner. This is a big step, and you may feel hesitant about replacing your AC as a way to prep for the heat. But a new air conditioning installation in Slidell, LA might be your best option—and if it is, we want you to know about it.
Do you have doubts about your current air conditioning system?
This is the first question to ask yourself to see if an AC replacement is a good idea. If you've had the same AC for more than a decade, or it was already in the house when you moved in and you aren't certain of its age, you may worry that it's getting too old to make it through intense summer heat waves. Or perhaps the AC has required more repairs over the last few years, leading you to feel nervous that it's going to fail again.
These are all legitimate reasons to consider a replacement. You want an AC that takes away your worries rather than making them worse. When in doubt, ask our professionals to examine your cooling system and give you a recommendation.
Searching for energy savings
It costs money to use an air conditioner. An AC compressor draws on an enormous level of watts per hour, often around 3500, which makes it one of the biggest consumers of electrical power in a household. When an air conditioner starts to wear down at the end of its service life, it will drain more power than before. This is one of the biggest signs of an AC being ready to retire. If your cooling costs have risen steeply over the past few summers, your air conditioner is warning you it won't stay reliable for much longer. Starting out with a new system not only means greater dependability but also lowers bills as well.
The benefits of newer AC technology
Something to keep in mind when you consider getting a new air conditioning system is that it may be a true "upgrade": an AC with better features from advanced technology that works better than your current system did when it was new. Among the features you might want for a new air conditioner:
Multi-stage compressor
Variable-speed fan
Humidity controls
These features help with lowering energy use, reducing temperature fluctuations, creating a more even spread of cooling, and running quieter.
Put an end to repair after repair after repair
Have AC repairs turned into summer traditions? Nobody wants that kind of tradition! It's not normal to require repairs every year for an air conditioning system, so if you've started to sink money into routine repairs for the air conditioner, it's time to let the AC go and bring in a new one that won't interrupt your summer cooling.
Gowland's Heating & A/C Values "Relationship over Revenue!" Call us 24/7—we're available at your convenience, not ours.