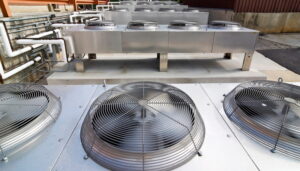 We know you have plenty to worry about on a day-to-day basis when it comes to operating your business. That's why you would like your HVAC system to simply do its job in the background so you don't have to pay any attention to it. Ideally, this is how commercial heating and cooling should work, and when we handle installation and maintenance services for commercial HVAC systems, it's our aim to see that the comfort system operates as worry-free as possible.
But when your AC system begins to malfunction during the warmer weather, you can count on us to come to your assistance with repairs. First, you have to know there is a problem, and commercial systems can sometimes hide their malfunctions until they get too big. In this post, we're going to go over the warning signs to watch for that you may need commercial AC repairs.
Odd noises or odors from the vents
If the HVAC system for your commercial space is like the majority, it uses rooftop units. This removes most of the sound the system makes from the workspace, but does make it a bit more difficult to tell when the system is malfunctioning. However, you can often tell something is wrong when strange noises begin coming through the vents, such as:
Rattling
Clanking and grinding
Mechanical shrieking
Continual clicking
All these noises are a reason to call for commercial HVAC inspections of your AC equipment. Weird smells are also warnings, and these include acrid odors (possibly a motor burning out) or a moldy smell (mold on the evaporator coils).
Uneven cooling
If you hear employees, clients, or customers complaining that parts of the space feel hotter than the rest of the building, please pay attention to it. Uneven cooling and hot spots are often signs the rooftop units are beginning to lose their cooling capacity. Please don't attempt to overcome cooling problems like this by pushing the thermostats' settings down lower, since this will place extra strain on the system and may make the trouble far worse.
Short-cycling
This is when the AC system turns on and off rapidly, never staying on or off for a period longer than fifteen minutes. There are a range of sources for short-cycling, and most of them require professionals to remedy. A common source is leaking refrigerant, a problem that puts the AC unit in jeopardy of a full shutdown and early replacement.
An unexpected increase in energy costs
Because you keep track of your business expenses, you'll see when cooling costs rise. Can you explain the rise because of an increase in use? If you can't, then there may be trouble with the system, such as clogged filters, faulty thermostats, leaking refrigerant, etc.
Let us handle your commercial HVAC in Gretna, LA. When you're in doubt about your cooling, our technicians will get to the bottom of the problem and have it fixed, fast. We're experienced with working with commercial air conditioning systems, and we're available at your convenience, not ours!
At Gowland's Heating & A/C we believe in "relationship over revenue"! Schedule service for your commercial HVAC needs.