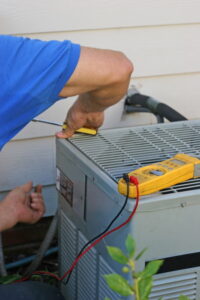 October is the season known for many things: candy, trick-or-treating, costume parties, and marathon viewings of Universal Horror Films. But you probably haven't thought of it as the season of air conditioning replacement. But it's definitely one of the best months for making a significant upgrade to your AC system if the time has come to retire it. The air conditioner has just completed another hard summer keeping your house cool, and if it seems like it was its last summer, than the cooler period of October is a perfect time to schedule service with us to install a new one.
Below are a few considerations about AC replacement we want you to know before getting started.
Is the AC beyond the point of repair?
You want to make certain that the air conditioner has come to the end of its effective service life. Even a dying AC can have repairs that will keep it going for a bit, but this is throwing away money. Any repair that is more than half the cost of a replacement is too steep, and if the repair will only hold the AC together for a few months before it needs to be repaired again, it's also not worth it. You can call us for AC repair in Slidell, LA and we'll give you an honest answer about whether the system is better off replaced. We value honesty in our dealings, so we won't try to sell you on a new system if that isn't what you need.
Should you invest in a high-efficiency air conditioner?
Replacing an AC presents an opportunity to upgrade to a high-efficiency system with a SEER rating of 20 or more. These systems cost more to install, so you'll have to make a decision balancing the potential energy savings. High-efficiency systems aren't the best for all homes, and again you can trust our team to give you honest answers about the type of AC that will work best. If a less expensive system is right, we'll tell you!
Are there any important steps before the installation?
Yes. We'll meet with you first to discuss your options for a new system, and we'll do an inspection of your home to determine what size of AC is necessary. This is a critical step, since an air conditioner must be powerful enough to supply cooling for the household, but not over-sized so it short-cycles and wastes power. Getting this step right is crucial, and we won't cut corners.
How long will the installation take?
The length of time depends on several factors: the size of your current air conditioner, the size of your house, how easily accessible the space is, and the condition of the ducts. Sometimes we need to make extra adjustments to ensure the AC works as it is supposed to. You can expect the process to take from four to eight hours—it won't be longer than a workday, so you can expect to have your system all set in a short time.
If you're ready to get going with an AC replacement, or you want an opinion about one, please call our team.
Gowland's Heating & A/C values "Relationship over revenue!" Call us to request an estimate on an air conditioning replacement.