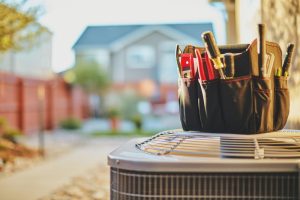 It may be fall now, but when it comes to air conditioning repair, when you need it you need it. This isn't a time when you can delay getting a faulty air conditioning system fixed just because there's a chance—and only a chance—you may not need it for a few months.
In general, leaving any sort of equipment with a malfunction is a poor idea. But neglecting AC repairs can put you in a trouble spot, either in the immediate future or further down the road. We'll explain more about why fast AC repairs in Slidell, LA are important no matter the season and no matter the upcoming weather forecast.
Always be prepared for an emergency
It's warm right now and you're probably relying on your air conditioning systems for at least some stretches of the day when you're home. That's likely the reason you've noticed something seems wrong with it. An air conditioner with a fault is far more likely to suffer a system breakdown, and that can put you in a literal hot spot when a heatwave strikes. Our fall weather is unpredictable, and with warm weather still hanging around, it's an unwarranted risk to leave the AC without repairs.
Repairs worsen over time
Air conditioners are complex pieces of equipment, so when one component starts to fail, it often leads to a chain reaction with other components beginning to fail. Neglecting a repair will allow more repair problems to begin, and you'll have to pay more to have the system fixed (if it doesn't break down entirely first). One example is refrigerant leaks. Losing the refrigerant charge in an AC leads to changes in system pressure which damages other components, eventually leading to the compressor burning out.
Neglect ages the air conditioner
Any malfunction will lead to an increase in strain on the AC because it must work harder to do its normal job. This increase in strain will begin to reduce the service life of the system, and this rapid aging may mean you have to replace the AC years earlier than you would otherwise. It's much like trying to drive a car without enough oil—it will ruin the engine.
Repair troubles make an AC more expensive to operate
That additional strain that comes along with malfunctions also means the AC draws on more electrical power than normal. You'll probably see a rise in your utility bills until the system is repaired. There's no reason for you to pay more to run your air conditioner if you don't have to.
We make it easy for you to get your air conditioner fixed. Our technicians are NATE-certified so they can get to the bottom of any AC problem and have it repaired fast. If you're a member of our maintenance program, we guarantee same-day service (within 24 hours). We don't want you to get trapped with a failed air conditioner any more than you do, so call us ASAP and have those worries put behind you for the rest of the year.
Gowland's Heating & A/C values "Relationship Over Revenue"! Schedule AC repairs with us—we're available at your convenience, not ours.