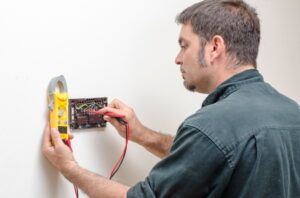 When you start to experience discomfort in the winter in your house even though your heating system is running, it's easy to imagine the heater itself is at fault. Heating system malfunctions can cause a heater to turn off early, produce lower levels of heat, go through rapid cycling, or other problems.
But sometimes the problem lies outside of the heater and in another part of the HVAC system: the thermostat. You might not have thought of the thermostat as a part of the HVAC system, but it definitely is—it's where you get to interact with your home's heating, cooling, and ventilation, and in the cases of programmable and smart thermostats, it serves as a central brain controlling when to heat and cool the house.
Below we'll list some of the ways a thermostat could end up making heating trouble in your home. In most of these situations, you can call our team for the repair necessary to fix the thermostat. In some cases, we may need to replace the thermostat.
Thermostat miscalibration
This is the most common thermostat problem, and it's one our experts can easily correct. When the thermostat is miscalibrated, it will read incorrect temperatures for the house, leading to it either turning the heater off too soon or letting it run too long. We don't recommend pushing the thermostat to higher or lower settings to attempt to overcome this: call us to recalibrate the thermostat and get things back to normal.
Poorly located thermostat
The ideal spot for a thermostat is near the center of the house. This way it can detect the general temperature of the home rather than outliers and handle the heating system accordingly. If you have a thermostat too distant from the center of the house, you may experience inadequate heating. A thermostat that's located in a drafty place, such as near a window, or where it will be in direct sunlight will also poorly manage temperatures in a house.
Lost connection to the rest of the HVAC system
The standard thermostat has a series of wires that connect to the HVAC system to control turning on and off the heater, the air conditioner, and the blower fan. Losing one of these connections will lead to a range of problems, such as a furnace that won't turn on at all. These problems are more likely to occur in older thermostat models, and we often suggest making an upgrade to a new thermostat type.
Mismatched thermostat
You must rely on professionals to install a new thermostat for you, otherwise, you risk having a thermostat model that's mismatched to the HVAC system. This can cause serious problems with system efficiency and responsiveness, and in the worst case, it can lead to damage to the HVAC system. Only trust pros to select a new thermostat unit and install it correctly. When you need any heating repair in Slidell, LA, call our team. We're available at your convenience, not ours.
Gowland's Heating & A/C Values "Relationship over Revenue!" Trust us to handle any repairs to your heating system this winter.