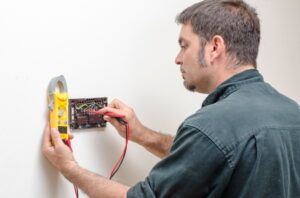 When you start to experience discomfort in the winter in your house even though your heating system is running, it's easy to imagine the heater itself is at fault. Heating system malfunctions can cause a heater to turn off early, produce lower levels of heat, go through rapid cycling, or other problems.
But sometimes the problem lies outside of the heater and in another part of the HVAC system: the thermostat. You might not have thought of the thermostat as a part of the HVAC system, but it definitely is—it's where you get to interact with your home's heating, cooling, and ventilation, and in the cases of programmable and smart thermostats, it serves as a central brain controlling when to heat and cool the house.
Below we'll list some of the ways a thermostat could end up making heating trouble in your home. In most of these situations, you can call our team for the repair necessary to fix the thermostat. In some cases, we may need to replace the thermostat.