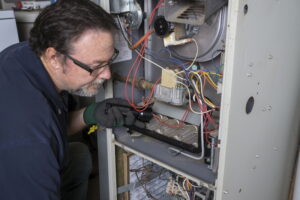 We know that it's easy to put off certain important tasks until later, and heating maintenance in Slidell, LA is one important task that too many people let slide until near the end of the year. We understand: the weather is warmer here and cold temperatures don't start to set in until deeper into the fall and the early winter.
So if you haven't yet arranged for your annual heating maintenance visit from one of our technicians, you haven't yet missed out—but now is definitely the time to have it done. The sooner you have this annual job completed, the more you'll benefit from it.
Why Maintenance Is So Important
Any machine with a long service life must have routine inspections and tune-ups to keep it working in peak condition. The heating system in your home, whether it's a gas furnace, an electric furnace, or a heat pump, is no exception. The accumulation of wear and tear on a heater each year is enough to begin to affect its performance and start to have major consequences:
Safety issues: This is especially important for a gas furnace. Without maintenance, a furnace may become unsafe to operate. It's critical for technicians to inspect the system each year to detect if there are malfunctions that can lead to leaking gas or combustion hazards.
Shortened system life: All that extra wear and tear on a heater means it won't last as long as it should. In fact, it might not even make it to half its expected lifespan and you'll end up paying for a replacement years too early. 
Lower efficiency: A heating system that misses maintenance will cost more to run as strain and dirt build up on it. Each year without maintenance will lower the efficiency of the system by around 5%, and that will quickly add up.
Lower capacity: Along with a drop in efficiency will come a drop in the heating capacity. The heating system won't do the job it used to do, and you'll need to run it for even longer.
More repairs: Maintenance helps to prevent the majority of repairs a heating system may require over its lifespan. Going without means more interruptions in your heating and more bills to pay.
Canceled warranty: The manufacturer's warranty on most heating systems is only valid if the system receives annual professional maintenance.
How Do I Get Started?
This is the easy part. We have a special Residential Maintenance Plan to take care of not only your heater, but your air conditioning system as well (it receives maintenance in the fall). When you join our Maintenance Plan, you'll also receive special membership benefits: a 10% discount on all parts, priority service guaranteed within 24 hours, no overtime charges, and a 1-year warranty on replaced parts & labor. 
Call our team today to learn more details about our Maintenance Plan. We'll sign you up and then get you on the schedule for heating maintenance.
Gowland's Heating & A/C values "Relationship over revenue!" Call us today to schedule your vital heating maintenance service in New Orleans and the surrounding area.