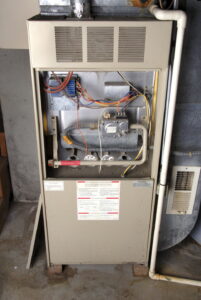 It may end up being a fairly warm December in New Orleans, but we can't depend on having warm weather throughout the winter. Our heaters need to be ready to go when the cold spells sweep through. The best way to ensure that your residential heating system is in great shape for the season is to have maintenance done for it. Nothing is better for avoiding heating repair in Covington, LA than preventive service to inspect and tune-up the heater.
We'd love to tell you that maintenance will prevent all repairs. Of course, that's not true. No matter how well you care for your furnace or other heating system, it may malfunction on you—and those malfunctions could appear early on. Below we're going to examine four heating problems that might crop up at the beginning of winter. If basic troubleshooting doesn't solve the issue, don't attempt any repairs on your own. Call us and we'll be there to fix the problem.
ONE: Low airflow from the vents
If you use a forced-air heater (i.e. a furnace or heat pump), you receive heat from the system through air that's blown through the ventilation system. If you notice the airflow from the vents is lower than normal, there may be a problem with the air handler or leaks in the ductwork—both of which will require you to schedule professional repairs. But the trouble might also be from a clogged air filter, which you can fix yourself by changing the filter for a clean one.
TWO: Delayed burner ignition
This is a common trouble for natural gas furnaces. The furnace activates, but the burners don't ignite right away. Instead, there's a delay, a clicking sound, and then a boom! noise. This is the sound of the build-up of unburnt gas in the combustion chamber igniting all at once. The problem may be with the electronic ignition system, or the burners could be sooty or have rust flakes on them. You don't want to tamper with a gas furnace, no matter what, so call technicians to find out what needs to be done.
THREE: Short-cycling
This is when your heating system keeps shutting off early, then turns right back on. A full heating cycle should be at least 15 minutes long. If your heating system is instead turning off after a mere 10 minutes and doing this several times an hour, it's something that needs to be investigated. There are multiple potential causes for this, from a clogged filter to a heating system that was incorrectly installed. 
FOUR: Tripped circuit breaker
The heater runs, then abruptly shuts off. When you check on it, you find the reason is the circuit breaker for the heater has tripped. No problem; you reset it. Then trips again. And again. This is a problem that can occur in both gas and electric heating systems, and often indicates a short in a motor or problem with the control board. Please don't try to keep running the heater if it's routinely tripping its circuit breaker: call on technicians to locate the source of the voltage overload.
Gowland's Heating & A/C values "Relationship over revenue!" Call us for heating repairs—we're available at your convenience, not ours.