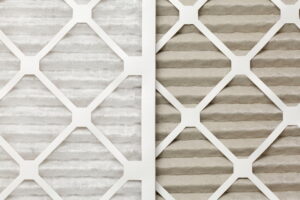 Although we can't tell you exactly what your house needs to improve it's indoor air quality because we don't (yet) have information about your house, we can make a broad generalization based on the work we've done in the past and the statistics about indoor air quality: You probably need both air filters and air purifiers for your home.
The unfortunate fact about IAQ (indoor air quality) is that it's poor in many modern homes and a leading cause of multiple health problems.
You might think of poor IAQ as something that would only happen if a house isn't kept clean or if it's located next to a smog-belching factory. But you can have a clean, wonderful home far away from a major source of air pollution and still end up with poor IAQ.
The reason is an increase in the number of sources for indoor pollutants combined with heavy insulation that prevents fresh air circulation. I.e. you have a house full of pollutants with no easy way for them to escape.
Enter the air filter and the air purifier—one of several indoor air quality services in Chalmette, LA we offer that can help you enjoy much healthier IAQ in your house.
The Whole-House Filter and Air Purifier
The type of filtration and purification systems we recommend are known as whole-house systems. This distinguishes them from the many portable air purifiers you can purchase through online retailers and the simple filter found on the HVAC cabinet.
Portable air purifiers aren't an efficient solution to dealing with air pollutants because they only affect smaller areas, and the HVAC cabinet filter isn't designed to improve air quality but to protect the interior mechanisms of the air conditioner and heater.
To make a major difference in your home's IAQ, you'll need to work with professionals like ours to install whole-house air filters and purifiers into the HVAC system so they make an impact on all the air that circulates through your home.
Filters or Purifiers?
This is a deceptive question: you can have both! Most homes will get the best benefit from having the right combination of filtration and purification systems. Many of the best indoor air quality devices combine filters and purifiers into one unit.
Filters are effective against larger particles such as dust, dander, pollen, and lint. There are extremely strong filters that can remove even smaller pollutants, but these filters (such as the HEPA filter) aren't designed for residential HVAC systems because they will place too much resistance against airflow. This is where air purifiers are especially helpful.
There are several methods of air purification, such as UV lights and ionizers, but they all work without using any physical media that can create air resistance. Purifiers can eliminate minute particles: volatile organic compounds (VOCs), odor molecules, smoke, pesticides, mold spores, bacteria, and more.
These are the pollutants that often slip through the mesh of filters. Purifiers also make filters' jobs easier because they make pollutants clump together and get trapped in the mesh. 
To find out the best combination of filters and purifiers for your home's needs, talk to our IAQ professionals.
Contact our team today for the best in indoor air quality services. Gowland's Heating & A/C Believes in "Relationship over revenue"!