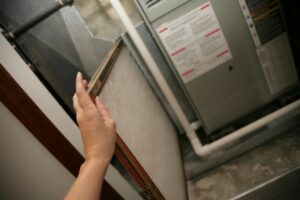 One of the important steps to prepare your home for the winter is to ensure that your natural gas furnace is working safely. We don't want to alarm you into thinking your gas furnace is some sort of ticking bomb that's a major menace to the health of your family. Gas furnaces are built to strict safety requirements and rarely pose any danger to homeowners.
However, there is the chance that a gas furnace will create combustion dangers (flames escaping from the cabinet) or leak carbon monoxide. The threat from CO is one we recommend all homeowners to take seriously if they use natural gas in their homes in any way. Carbon monoxide is a colorless, odorless, and highly toxic gas. According to the CDC, at least 430 people in the US die from accidental carbon monoxide poisoning each year. Even smaller exposure will lead to health problems.
What can you do to boost your winter safety with your gas furnace? Check out our safety tips below.
Always have your gas furnace maintained professionally in the fall
This is the top priority for keeping a furnace running safely through its service life. During maintenance, technicians perform inspections of the furnace to check for potential hazards such as cracks in the heat exchanger, stuck gas valves, failing safety mechanisms, proper venting, and gas leaks. The regular tune-up is done as part of maintenance also helps a furnace work safely through the upcoming season. If the technicians catch anything wrong, they can alert you in time to have the issue repaired before the furnace needs to start work for the season.
Have carbon monoxide detectors installed and regularly test them
If you use natural gas in your house in any capacity, you must have CO detectors at key locations in your house. If you don't, please arrange for the installation of carbon monoxide detectors in Slidell, LA as soon as possible. Because CO has no taste or odor, it's difficult for people to detect until they start to notice the effects. CO detectors provide an early warning of a problem so a household can safely evacuate and call the gas company. (Please don't call us first to see about fixing the furnace. First, alert the utility company and wait for an "all-clear.") Once you have detectors, test them every six months to make sure they are operating properly.
Keep the area around the furnace clear
Furnaces are often located in areas of a house where people like to store objects, such as basements and closets. But for the safest operation, a furnace needs to have a clear area around it for at least a foot. This stops the heat from the furnace exterior and possible flame rollout from igniting adjacent material. Be especially careful about storing highly flammable materials like paint thinner anywhere near the furnace.
Regularly change the furnace filter
There are many reasons to change the furnace's filter every one to three months. One is for safety. A clogged or damaged filter can cause the furnace to rapidly overheat, and lint and other materials trapped in the filter are often highly flammable.
Gowland's Heating & A/C values "Relationship Over Revenue!" Rely on us for all your gas furnace services in New Orleans and the surrounding area.