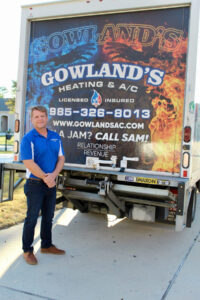 November is off to a pleasant start with warm weather. We know this won't last forever, and so right now when you don't need to run your home's heating system is a great time to call us and schedule your annual heating maintenance in Covington, LA. It's close enough to winter for maintenance to have the maximum effect, and you won't have to worry about missing out on warmth while our technicians inspect and tune-up your heater.
Yes, maintenance is an annual job
If you start thinking, "Wait, didn't I just have maintenance done?", it's probably because you had it done last fall. In other words, you're right on schedule: we recommend you have heating maintenance every fall, the same way we recommend air conditioning maintenance every spring. And it's not just us! All reputable HVAC contractors and HVAC manufacturers advise heating maintenance as an annual job.
The benefits of keeping up with yearly maintenance are tremendous. You'll end up saving money in the long run as well as experiencing fewer interruptions with your comfort. The best reward of all is that heating maintenance gives you peace of mind each winter that your heater will make it through the season without problems.
The specific benefits of annual heating maintenance
Safety: If you use a gas furnace, this is an especially important benefit. Maintenance helps keep heating systems running at their safest. Our technicians will carefully inspect your heater to find any place where it might develop a hazard and inform you so you can have it corrected before winter weather arrives.
Fewer repairs: Maintenance is sometimes called preventive maintenance because it prevents the majority of repairs a heating system may need. This saves you money and stops inconvenient losses of warmth to your home.
Longer service life: No "repair" for a heating system is more expensive than having to replace it many years too early because it wore down fast. Maintenance slows down aging in a heater and helps it reach the longest effective service life, rewarding you with a better return on your original investment.
Better efficiency: The energy efficiency of a heating system will decline an average of 5% each year if it isn't maintained. With maintenance, it will only lose 5% efficiency over most of its service life. That makes a huge difference in what you pay to run your heater.
Warranty protection: The warranty for your heating system may be voided if you can't show proof that it has received annual maintenance.
Join our Residential Club Agreement
We want to make scheduling HVAC maintenance easy and straightforward for you. That's why we created the Gowland's Residential Club Agreement. As a member, you'll get two 15-point inspections a year, one for your AC and one for your heater. You'll also enjoy membership perks like a 10% discount on all parts, priority service (guaranteed service within 24 hours), no overtime charges, and a 1-year warranty on replaced parts and labor.
Gowland's Heating & A/C values "Relationship Over Revenue!" Contact us today to schedule maintenance or sign up for our Residential Club Agreement.