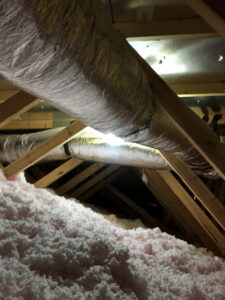 Ducts are an essential part of the majority of homes. They're responsible for the circulation of air around a house and the delivery of heating and cooling from the heater and the AC.
Unfortunately, many homes have ducts with poor designs and bad installations.
A house may have beautiful construction and impeccable interior design, but hidden behind the walls and up in the attic lurks ductwork that was hastily cobbled together from pre-fabricated parts and installed with a focus on speed over craftsmanship. 
What's even worse is that homeowners often are unaware of these poor designs. It's easy to notice bad craftsmanship on the inside of your home, such as drape brackets that rip off the wall or chipped wainscoting, but what about the ducts hidden within your home?
Poor duct design will have a major impact on your HVAC system as well as your home, so it's something you'll want to have corrected. We'll look at how bad ducts can turn into trouble in your house.