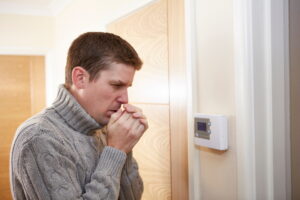 You don't want a failed heating system to catch you by surprise during one of the colder days of the season. You'll have to call for repairs for the system, or in some cases a full heating replacement. Although you can always count on our heating technicians to get to you fast—we're available at your convenience, not ours!—we can't be there instantly. If you want to avoid an emergency call for your heating in Kenner, LA, you have two tactics. First, always schedule heating maintenance in fall. We've covered this recently. Second, know what signs to watch for that your heating system is tottering. We'll cover that here.
4 Signs Your Heater Is Close to Failing
With all these warning signs, please keep in mind the age of your heating system. If it is over 15 years old, it's at a higher danger of a breakdown, making the warning signs more urgent. If a heater that's over its estimated service life breaks down, we recommend replacing it rather than trying to push it onward with repairs.
#1 – Uneven heating
One of the early warnings that a heater is starting to lose its heating capacity is when cold spots appear around the house. If certain rooms are no longer warming up the way they usually do while other parts are fine, it shows that the heater no longer can produce the amount of heat to match the space. This may be due to gas flow issues for a gas furnace or airflow restrictions in heat pumps or any type of furnace. It could also be an older heater's final decline.
#2 – Loud noises
Heating systems make some noise when they run, and you're used to these sounds during the winter. When these sounds change to become louder and they begin to wear on you and distract people, don't ignore it. These noises are usually mechanical failures that are building up and will soon result in burnt-out motors and expensive repairs.
#3 – Early shut-off
The thermostat is set to a temperature that will cause the heater to come on. It does … and then turns off after only a short time running. Far less than usual, far less than necessary. It might then turn back on, try again, and stop once more. This is short-cycling, and it's not good for the heating system because it means excess wear. But that it's happening at all may be the bigger problem: a major malfunction might be causing the heater to keep shutting down early. Soon, it may not turn on at all.
#4 – Thermostat Can't Get the Right Temperature
With a properly working heater, its thermostat can be set at a steady temperature and left there for most of the day, with a change made at night. If you find you have to keep manually changing the thermostat to try to get the heat in the house right, it may mean the heater just cannot distribute the heat as well as it once could. (It may also be a thermostat issue.)
At Gowland's Heating & A/C, we believe in "Relationship over Revenue!" Schedule heating repairs or a replacement in New Orleans and the surrounding areas with our team.